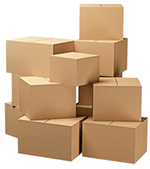 How we calculate shipping:
Our system
DOES NOT
automatically process shipping costs because it
CAN NOT
. Actual shipping costs are based on the following:
weight
box size
destination address
insurance amount
Why we don't do calculated shipping:
Because no two orders are exactly the same, there is no standard dimension, weight, or shipping cost for any of our products, which is required for calculated shipping. The shipping costs that are calculated by the shopping cart are calculated on a percent of the total dollar amount
ONLY
. We adjust final shipping costs based on the actual cost of shipping via UPS or USPS. Therefore we adjust the shipping costs that you see in the shopping cart, either up or down, based on how much it costs us. Our minimum shipping and handling cost is $10.
Additional shipping costs and why they happen:
Products that are large and heavy have additional shipping costs because of dimensional weight. This means that the shipping companies have decided that the dimensions of a package (LxWxH) are the standard for pricing, and they estimate a certain weight for these dimensions. If you go over that weight, you are charged more. Unfortunately, we don't control this, but we work with it as best we can.
Signatures and expedited shipping:
Other costs incurred are from things like requiring a signature, or expedited shipping methods. We typically only require a signature on original art or products over $150. If you would like to forfeit the signature for a package, you can contact us to let us know.
If you choose to forfeit the signature on a delivery, you may not be eligible for returns on a damaged product.
Expedited shipping is something we offer to customers at any time, but occasionally we will suggest these shipping methods when handling higher end pieces of art, especially framed art. The less time your package spends in transit, the safer it will be. Of course, we will always discuss this with you first.
Want to know your shipping costs before you order?
We always try to choose the best possible shipping method and price point for our customers. We
DO NOT
mark up shipping. If you are interested in a product in our gallery, but concerned about the actual shipping costs involved, please feel free to call or e-mail us for a more accurate shipping rate prior to ordering.
If you choose PayPal as your payment option when ordering from our gallery and the actual shipping costs are significantly less than the shipping costs on your order, we will credit your PayPal account the difference.
Free shipping on special offers:
How we calculate free shipping is pretty simple. Any time we offer free shipping with a special offer, we are talking about how much you're spending
BEFORE
your product is discounted. For example, if you want free shipping on a special that offers "FREE SHIPPING ON $200 OR MORE," and the discount is 10%. You simply have to have $200 worth of product in your shopping cart when you check out. We will manually apply your discount and your free shipping after checkout. This way, all you have to do is make sure you have the right number in your shopping cart and we'll handle the rest.
At this time, we do not offer free shipping outside of the U.S.
Sending items to us for a signature:
We are happy to sign a book for product that you purchased without a signature on
MOST
products. However, there are some exceptions, which we will list below. You can send the item to us, but please include a return shipping label and appropriate return shipping packaging, plus contact information in case we need to reach you. Otherwise, we are not responsible for returning your items to you.
Items we will not sign include:
Prints you made from taking our images off the internet
Tin signs made by another manufacturer
Blank pieces of paper
Art not by Greg
Trading cards in duplicate
Anything else we feel is inappropriate to sign
Signing trading cards:
We get asked about this a lot, and we will be sure to post this elsewhere on our page, but we felt it fit in here as well. We will
NOT
be doing free signings of trading cards anymore as of June 1, 2017. However, with any purchase over $50, you can contact us and will allow you to send us up to SIX different cards–
DO NOT SEND DUPLICATES
. Send your cards with a Self-Addressed-Stamped-Envelope (SASE) to the gallery, and we will happily sign and send them back to you. If you do not include the SASE, we are not responsible for returning your cards.
Our address:
SpiderwebArt Gallery
5Waterloo Road
Hopatcong, NJ 07843