Original Star Wars Limited Edition 1977 Poster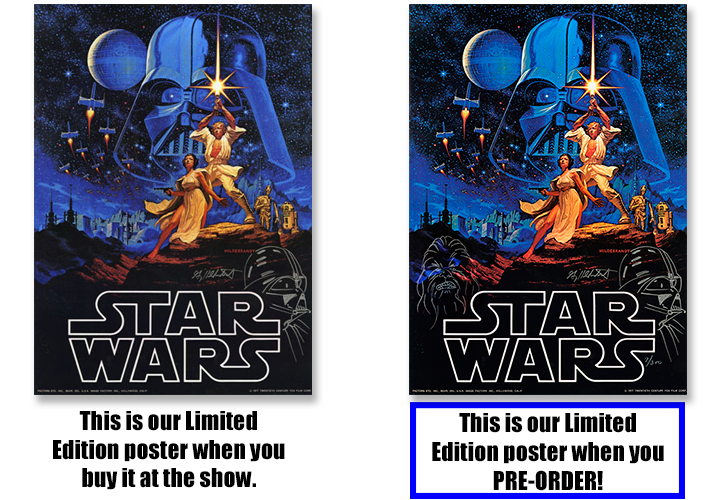 A 2017 New York Comic Con special! We are offering pre-orders of this incredible, limited edition, hand-signed poster with a gift you won't want to miss! This year only, with less than 65 posters left in our edition of 300, we will be offering a SECOND remarque for FREE!

We will not charge you for shipping if you pick up your poster at the show, but all posters must be purchased BEFORE October 1st to receive this amazing Chewbacca remarque! Important: Photo ID is required at the show to pick up your poster.
If you do not show up, we will charge you for shipping and mail you your poster after the show.

Visit our gallery here or call us at 973-770-8189 to place an order for a Star Wars Limited Editon Poster with a Remarque.
Use OFFER CODE"NYCCPICKUP" in the comments box, or let us know you're picking up your order over the phone.
Come to NYCC from October 5th through 8th with a photo ID that matches the name on your order, and pick up your awesome new poster!

Additonal information:
Our Limited Edition Original 1977 Posters that are hand signed and hand numbered will still be available for purchase at the show, however, quantities will be limited!
PLEASE NOTE: Posters purchased at the show will NOT have the addtional remarque. To receive the remarque, posters must be ordered before the 1st of October.
©Spiderwebart Gallery 2017