Visit www.answerthecall.org


Greg Hildebrandt and the Spiderwebart Gallery worked for two and a half years to reach their goal of raising $10,000. Spiderwebart Gallery chose Rusty Staub's Answer the Call Benefit Fund for its donation because of the high percent of donation money that goes to the widows and children of NYC's first responders who have been lost in the line of duty.
Immediately after the 9/11 strike on the Twin Towers, Greg and Tim Hildebrandt painted three beautiful pieces of tribute art. They were deeply affected by the tragedy and loss, but also moved and inspired by the heroism and strength of the NYPD, FDNY, and so many others. Two of the paintings represented the FDNY and one represented the NYPD. These pieces were titled, 'Last Measure of Devotion' (FDNY), 'New York's Finest' (NYPD), and 'The Day the Angels Cried' (FDNY). These images are powerful. They invoke feelings of loss, hope and determination—feelings experienced by many who lived through that day and the days that followed.
These images were licensed to Scorpio Posters in a combined effort to raise money for this cause.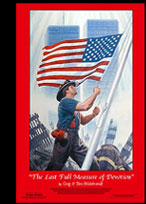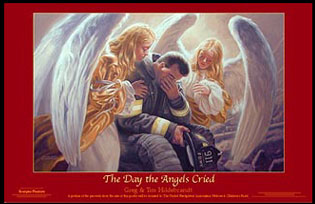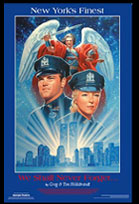 "We are extremely proud to be a part of helping the families left behind in this terrible tragedy. We are also looking forward to continuing to work with Rusty in the future". — Greg Hildebrandt


Go Back