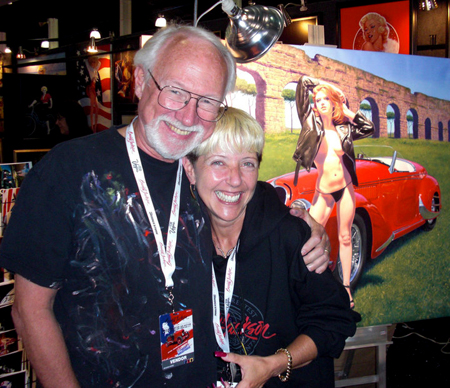 WHO WE ARE:
Spiderweb Art Gallery, or Spiderweb Art, is owned and operated by Greg Hildebrandt and Jean Scrocco. Jean has been representing Greg and his art for over 36 years, and Greg has been creating art for over 56 years, making them the perfect team!
Greg's career as a fine artist and commercial illustrator spans many genres, but he is not just a creator of art. He is a great appreciator as well. Founded in 1995, Spiderweb Art Gallery showcases the art and collectibles of many excellent artists and is Greg's tribute to a lifetime of his love of art of all kinds. He is constantly looking for the next artist to add to the gallery for your enjoyment.
For more than thirty years the principals of Spiderweb Art have had the privilege of working with world renowned artists as their artist representatives. Among these artists are Greg Hildebrandt, The Brothers Hildebrandt, Joe Quesada, Nelson DeCastro, David Boller, Mary Hildebrandt, Mark Romanoski, Andy Kubert, Lou Harrison, Tom Smith, Amanda Conner, Jimmy Palmiotti, and Tom Fritz. As their representatives, Spiderweb Art has aided these artists by custom publishing their books and handling the sale of their original art and their limited editions, as well as licensing their artwork for reproduction on tin signs, puzzles, posters, etc.
We have also had the pleasure of working with and selling original art to many well- known collectors such as Michael Jackson, Robin Williams, David Copperfield, the Trans-Siberian Orchestra and the owner of Word Perfect.
WHAT WE OFFER:
Spiderweb Art has numerous categories and subcategories for the different art styles encompassed in our gallery, including the following:
Fantasy, Science Fiction, Comic Art, Religious, Western, Entertainment, Trans-Siberian Orchestra, Star Wars, Pre-Production Movie Art, Illustrated Classics, Advertising, Fairy Tales, Tolkien's – Lord of the Rings, 3-D Sculpture, Children's Book Illustration and Pinup Art.
We have over 7,000 pieces of art and collectibles to view and buy. We have something for everyone!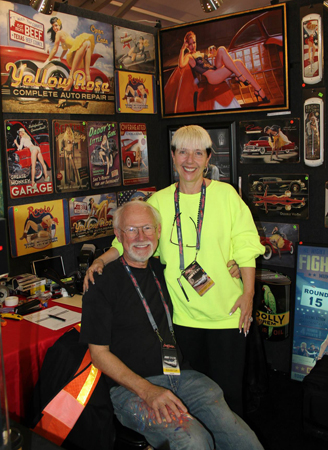 Children's Book Illustration is an art form as old and priceless as time. Greg has illustrated numerous storybooks for children, many of which are classics like Alice in Wonderland, Peter Pan, and Robin Hood. Several of the books he has illustrated are for sale on our gallery. Our collection also includes other titles that are illustrated by different artists, but they are equally as beautiful.
Our ultimate goal is to have over 10,000 pieces of art and collectibles available for you to enjoy viewing and purchasing either for yourself or as a gift for a very special someone in your life!

Don't see exactly what you're looking for? We also accept a limited number of commissions for artwork. You can get more information here.
In the last few years, we have seen major retailers advertise that the layaway is back. At Spiderweb Art Gallery, we have no idea where it went. Since the inception of this gallery, we have set up layaway plans for our customers on everything from limited edition books to really expensive pieces of art. A layaway plan is the perfect vehicle to pay off the cost of an item over a period of time -- enabling you to purchase something that you love without the cost of it hindering your monthly budget. For more information about our layaways, click here.
WHAT WE'RE ABOUT:
We believe that art is for everyone. No matter their budget, their location, or their lifestyle, there is a piece of art out there for every person. The art and collectibles we sell on our gallery date all the way back from the 1960's to present day. It is our goal to ultimately find a home for each and every piece. At Spiderweb Art Gallery, we appreciate the people who value our art.
Spiderweb Art Gallery believes in giving back. Though we are a small business, we strongly believe in helping others.

Our efforts to give back have included the following:

The Rusty Staub Foundation: A 9/11 Charity
ALS Therapy Development Institute
The Lake Hopatcong Foundation
We have also worked with the following:
LiveAid - For the benefit of African famine relief - Published US edition of LiveAid concert book and worked with the foundation to create a live art auction at the Hard Rock Cafe in New York, NY.
American Diabetes Association - Greg and Tim Hildebrandt created and donated a piece of art titled, 'Taming the Dragon of Diabetes', which was used in their campaign.
Boy Scouts of America - Greg Hildebrandt was a guest speaker!
Make a Wish Foundation - Meeting Greg and Tim was a child's wish, and they made it come true! They spent 3 days with him and gave him a painting in which he was the main character. Greg also painted a portrait of a child who was dying for her parents.
Have a Heart Fundraiser for the Homeless in NYC - Greg and Jean ran an art auction to benefit the homeless. They both donated art from the gallery and rallied other artists to donate as well.
The Lake Hopatcong Animal Shelter - Greg painted two of the cats who were permanent residents of the shelter, and donated the painting to the shelter where it still hangs today.
These are just some of the fund raising events and charities we have participated in. Each cause is of great importance to us, and it brings great joy to Greg and Jean when they are able help those who need it.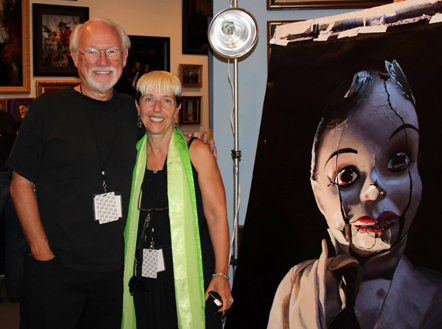 Art is a gift that lasts a lifetime. Browse through the gallery, enjoy the art. In the words of Greg Hildebrandt:

'Art stirs your emotions and whisks you away to worlds that exist only in your dreams.
Come dream with us!'
Thank you for visiting,
Jean L. Scrocco
Greg Hildebrandt