Welcome to the Spiderwebart Gallery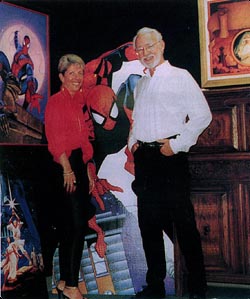 Spiderwebart Gallery is owned
by Greg Hildebrandt.

Greg's career as an artist and illustrator spans over 51 years.
The gallery showcases the art and collectibles of many excellent artists and is Greg's tribute to a lifetime of his love of art of all kinds. He is constantly looking for the next artist to add to the gallery
for your enjoyment.
For more than thirty years the principals of Spiderwebart have had
the privilege of working with world - renowned artists — as their artist representatives, custom publishing their books and handling the sale of their original art and their limited editions.
Among these artists are Greg Hildebrandt, The Brothers Hildebrandt, Joe Quesada, Nelson DeCastro, David Boller, Mary Hildebrandt, Mark Romanoski, Andy Kubert, Lou Harrison, Tom Smith, Amanda Conner, Jimmy Palmiotti, and Tom Fritz.
We have also had the pleasure of working with and selling original art to many well- known collectors such as Michael Jackson, Robin Williams, David Copperfield and the owner of Word Perfect.
We work very closely with Every Picture Tells A Story in Santa Monica, California. Every Picture is the # 1 gallery in the country that specializes in Children's Book Illustration. Adding their art and artists to Spiderwebart gives us the ability and the extreme pleasure of being able to bring to you many more artists that up to now have been available to only a small group of collectors.
Children's Book Illustration is an art form as old and priceless as time. Combining their expertise and ours gives you a selection beyond compare.
Fantasy, Science Fiction, Comic Art, Religious, Western, Entertainment, Sports, Native American, Oriental, Star Wars, Pre-Production, Classics, Advertising, Fairy Tales, Tolkien's – Lord of the Rings, 3-D, Children's Book Illustration and Pinup Art stirs your emotions and whisks you away to worlds that exist only in your dreams. Come dream with us!
Browse through the gallery. Enjoy the art. Thank you for visiting.
Our ultimate goal is to have over 10,000 pieces of art and collectibles available for you to enjoy viewing and purchasing either for yourself or as a gift for that very special someone in your life!
Jean L. Scrocco
Greg Hildebrandt